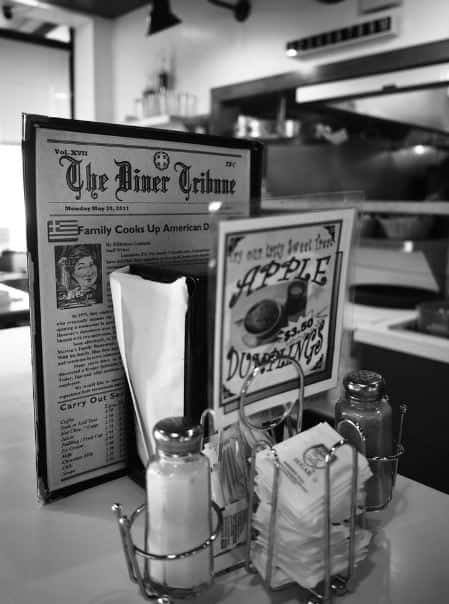 About Us
For nearly 4 decades now, Lancastrians have satisfied their appetites at two small, home-style friendly restaurants that have their spirit and flavor resembling a big apple atmosphere with a hint of Hellenic spice and small town charm.
The story of this family operation began when Ilias (Louis) Lountzis and his wife Aliki (Alice), came to America in 1973 from the quaint, small town of Konopina located in the western coastal mountains of mainland Greece. They began their lives together in Queens, New York, where Ilias worked for his brother Frank as a short order cook.
In 1975, they celebrated the birth of their first son Nektarios (Nick). Shortly thereafter, Ilias met a friend who eventually became the godfather of his first born son. Together they made plans to better their lives by opening a restaurant in partnership. Their ventures brought them to York, Pennsylvania, where at the heart of Hanover's downtown area in 1977 they opened Lucky Spot Restaurant. During this time, Ilias and Aliki were blessed with two more sons, Efthimios (Terry) in 1978, and Evagelos (Angelo) in 1980.
Soon afterward, in 1983, Ilias and Aliki found a wonderful establishment for sale in Rohrerstown named Morton's Family Restaurant. From there, Ilias sold his share of Lucky Spot to his partner and bought Morton's. With his family, he then moved to Lancaster and turned Morton's into Louis' Family Restaurant where he has and continues to serve numerous fine American and ethnic meals to the public.
Many years later, in the summer of 1999, Ilias' pursuits brought him to East Lampeter where he discovered a former Schlotzky's Deli for sale. With a little remodeling and hard work, Alice's Diner was born. Today, Ilias and Aliki enjoy the company of their six grandchildren (Elias born 2002, Theodoros 2004, Aliki 2006, Ariana 2011, Ilias 2011, and lastly Elias 2013) and continue to run both establishments with the help of their sons, daughter-in-laws, grandchildren and devoted, hard-working employees.
We would like to sincerely thank all of our wonderful customers and dear friends who have come to experience both restaurants and we wish that you would continue to enjoy our services for years to come!